Animal Guides and Organizations
Want to know more about the tidepool creatures? Consult these online guides.
FMR Tide Zones Guide: Before your visit, read through this 15-page full-color PDF to learn how tides work, get an introduction to the geology underlying the tide pools, and meet some of the organisms you will find during your visit.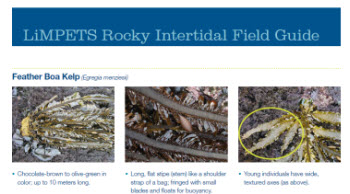 The LiMPETS program has published its Rocky Intertidal Field Guide for 2012, funded by the Friends of Fitzgerald Marine Reserve. The photos in the guide are accompanied by notes to help the students and others who are participating in the study identify the marine life being counted.
Stanford Guide to Intertidal Organisms
Browse PBS episodes from Secrets of the Ocean Realm
The Monterey Bay Aquarium is almost as inspiring online as it is in person. Visit their site to view live webcam feeds of their exhibits, learn about ocean animals from albatrosses to zooplankton, and find out what you can do help preserve the health of our watery planet. For a guide to many of the animals at FFMR, browse "Invertebrates".
The website SF Bay Wildlife offers information about wildlife watching and ecotourism throughout the Bay Area.
The KQED Quest website has a wonderful video explaining how the pull of the moon creates high and low tides, complete with an animation, and a great blog post with beautiful photos explaining the geology underlying the reserve. While you're there, check out the other amazing video, audio, and blogs that Quest provides. They focus on exploring science in the San Francisco Bay Area, and many of their stories center on the bay and ocean around us.
Organizations
At (www.inaturalist.org), you can record what you see in nature, meet other nature lovers, and learn about the natural world.
The Surfrider Foundation has an active San Mateo County chapter that sponsors beach cleanups, monitors water quality, and posts beach closures and warnings, among other activities.
The Pacifica Beach Coalition is dedicated to preserving coastal habitats and wildlife by ending litter on Pacifica's beaches.
The Oceanic Society offers ways to get out on the water, including whale watching boats and tours of the Farallon Islands.
The Ocean Conservancy, formerly the Center of Marine Conservation, covers global marine conservation.