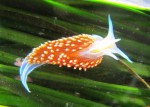 Love nudibranchs? The tide pools at Fitzgerald Marine Reserve provide homes for many varieties of these lovely sea snails. Four times a year at low tide, a group of volunteers does a nudibranch count at Fitzgerald Marine Reserve and sends the survey results to the California Academy of Sciences in San Francisco. They tally the number of each species found within a two hour period at Fitzgerald Marine Reserve or nearby Pillar Point.
The latest survey was on January 11, 2013, during a minus tide of -1.4ft.
For more information, visit the FFMR Nudibranch Survey Facebook page:
Compared to the sculpted, fractured, and life-laden rocks of the intertidal at FMR, the sand you walk on to get to them may seem pretty boring. Maybe the KQED Quest blog entry Sand: Hold a Mountain in Your Hand will change your perspective.
And Playing in the Sands is a site based on an educational poster (available for purchase on the site) that shows you close-up photos of sand from different locations around the world. Click on the small images in the lower pane to see them magnified in the upper pane. There is an amazing variety and some are quite beautiful.
One of the reserve's closest neighbors is the world-famous surf spot called Mavericks.
Surfline.com has a fascinating feature article about how wind, waves, and the underlying offshore geology (called bathymetry) combine to create one of the world's top five surf experiences.
Read More

»